vandal-resistant payphone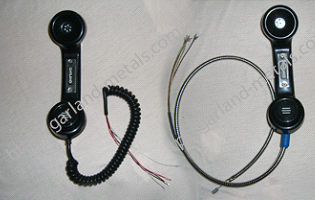 Xenoy or ABS customized colorful /public phone/industry handsets, which have noise cancelling transmitters
Product Introduction
Characteristics:
1.Handset is certified to be destruction resistant for military use.
2.Can be used in public, or factory setting.
3.Durable
4.Provide excellent voice quality with phone systems
5.Clear voice transmission
6.Compatible with noise cancelling, enhancing quality of conversation
7.Handset is equipped with button
8.Connects to phone system for calling
9.Handset is installed with magnets or reed switches.
10.High quality communication
11.Xenoy or ABS resin construction suitable for military use
12.Can be paired with our high quality stainless steel armored cord and hook
13.Handset is safe for use
14.Multiple color available for customization
15.Stainless steel armored cord is constructed with imported 304 stainless steel, or be custom build according to specific material needs
16.Handsets equipped with steel wires, can withstand high tension greater than 250 KGS.
17.Utilizes movable coil to be puncture resistant, along with selected transmitter and receiver for high quality voice transmission
18.Transmitter and receiver provides vivid voice transmission
19.Noise reduction during call.To protect speaker environment
Application context:
Can be used in chemical,explosion-proof telephones,telephones mines,anti-noise telephones,telephones ship,prison telephones,public IC,coin machine,waterproof and dustproof telephone,self-service terminals and various other communications equipment.
Main features
1. Handset body made of ABS or Xinoy
2. Vadanl resistant,Good for fire resistance
3. Pierce-proof and hi-fi transmitter and receiver
4. Good call transmission of the matching phone.
Customer choice
1. Magnets or reed swit in handset is available.
2. Armoured cord and coil cord are available.
3. Handset body can be made in red,yellow,blue
4. The length of armoured cord ( 32 inches normally ) is flexible, Diameter of the tube Φ6.5Φ8.8
5.Handset body can be customized with gloss or matte finish
6.Connectors can be customized in accordance with specifications
We have specilized in designing and producing anti-explosion telephone handsets.keypads,hooks and many other telephone parts for many years,so if you have any requirments,please contact us directly!Thank you!